Bootlegger's Visit Bag End
Radio Personality and band frontman, Pat Capone along with bass player, Michael Streicher of the Bootlegger Band stop by to shop Bag End.
Patrick Capone (left) the guitarist and frontman for Mr. Capone's Bootlegger Band is a veteran Chicago rock radio personality he is currently on 103.9 WFXF The FOX and previously aired on WLUP The LOOP for 9 years.
Michael Streicher (right) is the Bass Guitarist and a vocalist in the Bootlegger band and is a longtime user of Bag End Speakers. He is currently using a Bag End Q10BX-DD and Q10X-D from the Deep Red Series.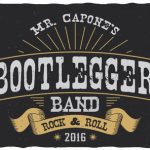 Mr. Capone's Bootlegger Band is a group of talented musicians that donates their expertise by performing for large scale benefits and charity events. The Bootleggers use and support local area equipment manufacturers to define their core sound. They are working on building their own PA system to use for events and are planning to incorporate Bag End Loudspeakers in it's construction.
Shown in the picture on the left is Craig Lockwood, Service Manager for Bag End; Patrick Capone, Bootlegger guitarist and frontman; Doug Lohman from Bag End; and Michael Streicher, Bootlegger Bass Guitarist and vocalist.