Creative Music Services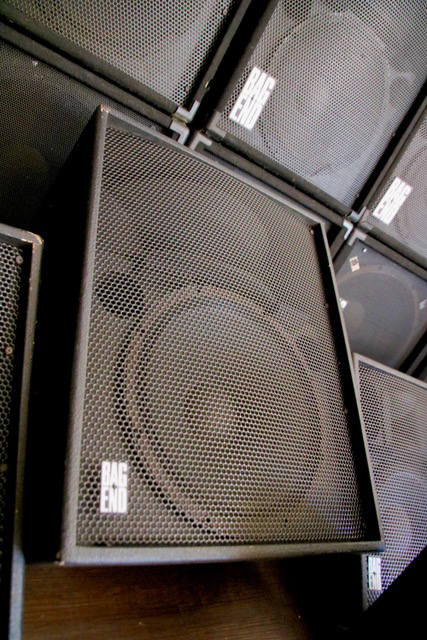 Meet performer, producer, educator and consultant Eric Chun, owner and operater of Creative Music Services (CMS).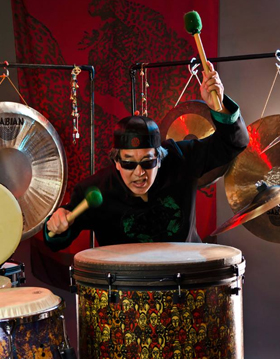 Creative Music Services is a Northern California leading music industry and production business. Eric is the founder of the Sac Valley Music Industry Forum, now in it's 5th season, and the Commercial Music Degree Program at American River College (ARC), now in its 28th year. Eric is on the State Board of Directors of California Lawyers for the Arts, and the Board of Directors of N focus Entertainment in Orange County.
Mr. Chun is a past Board of Governors member, VP and Secretary for the Recording Academy/San Francisco Chapter, and past Board of Directors with West Coast Songwriters. He is currently a co writer with Marcus Barone on the new film music site 'In The Loop', and also for the film 'Junction' with Willie Nelson. Eric divides his time among composing, pop music writing for Universal Music, touring, Writers In The Rounds, clinics, endorsements, record production, videos, and artist consultation. He is an ASCAP writer, SAG AFTRA member, Recording Academy voting member, and AES member.
"The best system in ARC college is the Bag End in lecture room 512… its an awesome system. SE18 ELF Powered, Custom cherry TA 2000 and TA 6000 for surround and stereo… this is at American River College… Sacramento, 30 000 students.. Commercial music degrees and Traditional music degrees…" Eric Chun
Eric continues to produce, record, and perform music on albums for a diverse array of clients including international artist Jun Makino, Mastersource, Jim Miller Films, Marc Cooper, Auburn Drumline, Roland Smith, NFE Records and Mozambique Records, among others.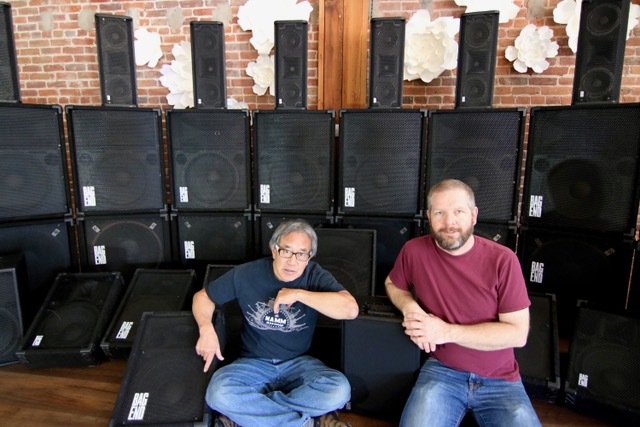 Eric has written for film as well as national television and cable, with music on shows such as Nash Bridges, The Young and the Restless, Guiding Light, King of the Hill, Maggie Winters, Why Do Fools Fall In Love, Black Xmas, and many more.
Bag End's
Eric and CMS have used or consulted on the use of the following Bag End Loudspeakers:
Creative Music Services (Auburn CA) – M6s, infra 12, D10X-C in production studio. TA6000, TA1202, and TA200 for live events/music
American River College (Sacramento) – Lecture room: TA6000, TA2000, SE18-C, ELF1, TA12, INFRA 12 Live classes: TA2000, ELF2, SE18-C
Bethlehem Lutheran Church (Auburn CA) – TA1202, TA80 for services
Auburn Summer Series and Ryan Goodpastor – TA5000-C. (8), SE18-C(6), TA12-JR (4), TA5000M (1), TA2000M (2) , ELF2, TA2000R, TA1202
Parkview Presbyterian Church (Sacramento CA) – TA1202, TA6000, TA80
Matt Chun Indy Artist – guitar system studio. TA80s
Ryan Goodpastor – Auburn Community/Library Garden Summer Series Audio System Manager (Percussionist, Live engineer FOH) – TA2000, SE18-C
Matt Pinder – (Michael Pinder family, Moody Blues) – Q10X for bass
Other places CMS has used Bag End Loudspeakers:
Sac Valley Music Industry – Forum Events
NAMM
Nicholsons Music -CMS Songwriter Nights, Folsom
West by West – Industry Multi Arts Event
Acoustic Café – American River College
Tims Music, Sacramento
Former Borders Books and Music – Sac City College
CSUS – Sac State University
CSUSF, San Franicsco
Camp Fire – Fundraiser Concert
California Lawyers for the Arts – Awards Night with Wayne Kramer
CLA Arts Initiative – Justice and the Arts
Beer Run Fest, Placerville
CMS Publishing – for UMG and Indy Studio Use
Auburn Chamber of Commerce – Annual Awards Night
Rotary Club – Auburn Community BBQ (10 Cabinets for speaking)
Festival of Lights Parade, Auburn, CA
Auburn Gomez Center – Hip Hop Open Mic
Recording Academy – SF Events (Grammy)
Placer HS – all Class Reunions (16 cabinets)
Carnaval SF …