L3's Tactical Operational Flight Trainers
BAG END SUPPLIES HIGH RELIABILITY, LOW FREQUENCY SYSTEMS
FOR L3's TACTICAL OPERATIONAL FLIGHT TRAINERS
L-3, a long time supplier of F/A-18 flight simulators is once again utilizing Bag End subwoofers. The latest generation of L3 F/A-18 Tactical Operational Flight Trainers (TOFT) is now integrated with L-3 Link's SimuSphere® visual system display. Currently, L-3's Link simulation solutions are supporting F/A-18C/D, F/A-18E/F and EA-18G platforms.
The TOFT F/A-18 flight simulator trains pilots in the field, on carrier takeoffs and landings. In addition, they train in low altitude flight, air-to-air and air-to-ground weapons delivery. As well as, electronic countermeasures and emergency procedures.
The Bag End IPD10E-I low frequency loudspeaker system was chosen. It is well known for its accuracy and extended frequency response. In short, it was used for this latest generation TOFT, to provide life-like low frequency information to the pilot.
Located behind the pilot, each simulator contains a custom, rugged, powered, double 10″ low frequency system.  This Infra processed, self powered, system provides a realistic audio experience during training operations. Bag End has been used in L3's flight simulators for some time now. We are proud to continue to be of service.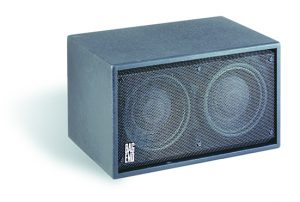 IPD10E-I, Bag End's Double 10" Infra Subwoofer System