Blue Man Group
Blue Man and Bag End for over 20 years….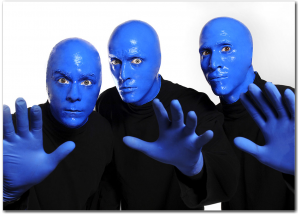 From early on Blue Man found Bag End speakers to be just the right sound for the Chapman Stick. Bag End was pleased to work with the artists at Blue Man to help find just the right system for their needs. The Chapman stick is a very dynamic and wide range stringed instrument and needs a full fidelity speaker system to be fully appreciated. Over the years, as more shows open across the world, Bag End continues to play a small but important roll at each performance, helping to insure a great sound from the orchestra. "Its been a pleasure and honor to serve in this capacity" said Jim Wischmeyer, President of Bag End. "We always enjoy seeing the shows as they have evolved over the decades."
The Theater
Since 1997, the Briar Street Theatre in Chicago has been home to performance artist ensemble BLUE MAN GROUP. The building, built 100 years ago as a carriage house, was converted to the Proscenium Theater in the 1980s, with 625 seats and a 52-seat balcony. The original second floor actually hangs from the ceiling by means of massive turnbuckles that can still be seen.
The Show
Blue Man Group is perhaps best known for their successful theatrical productions. They combine comedy, music and multi-media artistry to create a form of entertainment that is totally unique. Blue Man has also recorded the Grammy nominated Audio, and The Complex, which became the musical basis for The Complex Rock Tour and Blue Man Group's live concert DVD. They have branched out into musical and film scoring with their work on Barry Levinson's "The Jury" and on the animated film, Robotsalong along with TV commercials for Intel.
Blue Man Group now has locations in six cities: Chicago, New York, Las Vegas, Orlando, Boston and London. Bag End Speakers used are D10's, D12's and S12's.