Creative Music Services
Creative Music Services (CMS), is owned and operated by Eric Chun. It is Northern California's leading music industry and production business.
Creative Music Services encompasses; composing, pop music writing (for Universal Music), and touring. Also, Writers In The Rounds, clinics, music production, videos, and artist consultation. Mr. Chun is an ASCAP writer, SAG AFTRA member, Recording Academy voting member, and AES member.
CMS is a multi creation music business including:  TV, film, product endorsements, publishing, education, and live performance.
CMS has been using Bag End Loudspeakers since the mid 80's.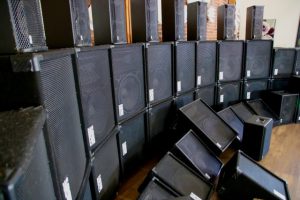 Shown here is an awesome wall Eric built from four different systems: Creative Music Services, Summer Series which is now Auburn Community Concert System, percussionist and audio engineer Ryan Goodpastor's and a church CMS is doing an install on. A total 48 cabinets….