Dante Fire
Dante has been performing on bass and drums since the age of 12. He has also produced over 20 albums. Since his chance meeting with Arsenio Hall at the Comedy Store, in Hollywood, and his work on the infamous Carlos Martinez Show, Dante has led the jazz fusion group Cross-Effect through some very good times. One of his career highlights is holding down the bass chair in the band of legendary "Funk Master" Rick James.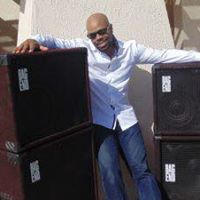 Dante's earlier work included hip hop work with Word$ Of Mouth featuring Thump/Universal rap artist Bossolo. Production and direction of music videos like 'Insane' that aired on MTV's YO MTV Raps program in the 90's. Or, "Love Exorcist"  from his 2013 Dark Angel album.
In addition
Dante has also managed the vocalist Sabrina Vargas. He obtained his Bachelor's from the University of Redlands and his MBA from the University of Phoenix. Dante has taught drums privately and lectures at the college level on music business at The Art Institute of San Diego. Dante has also guest lectured on the history of African Drumming at The Los Angeles Academy of Arts, The Orange County School District, Loma Linda Academy, and La Sierra Academy. Additionally, Dante worked under Judy Valsi at EMI Records along with Monte Lipman, current CEO of Universal Republic before starting Music Mattress, Inc./BLUE NOTE DIGITAL. 
From a musical perspective, he has worked with many top artists ranging from jazz to rock and r&b/ hip hop to gospel. Some of the artists include:  George Duke, Al Jarreau, Jamie Foxx, Rick James, Candy Dulfer, and Ice-T. He has also performed with much sought after players like Tichina 'Pam' Arnold (Martin Lawrence Show) Jazz legend Henry Franklin,  Andy Waddell, Gustavo Ramirez, Ronald Bruner Jr. (Marcus Miller/Stanley Clarke/KennyGarrett bands), Carlitos Del Puerto (Bruce Springsteen/Frank Gambale/ Chris Botti/ Arturo Sandoval), Donald Barrett (Carson Daily Show/ Seal/Pink Bands), Zane Musa (Arturo Sandoval/Carson Daily Show Band).  
Find Dante's website at: http://dantefire.com/HomePage.htm