GAP Digital
LONG-FORM RADIO STUDIO RELIES ON
BAG END SUBWOOFER SYSTEM 

GAP Digital is one of the only recording studios in the United States specializing in the production of long-form audio drama. Once a staple of radio programming, long-form dramatic audio productions and talking books create an audio canvas on which listeners paint their own visual pictures.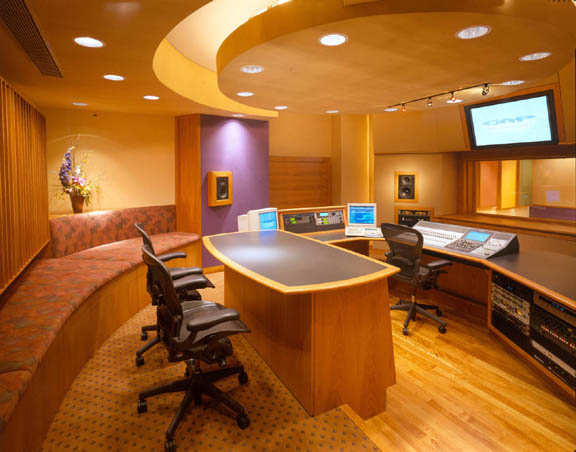 Located in the Chicago suburb of Wheaton, GAP Digital is a 3,000 square-foot space containing three studios. Studio A (420 square feet) is a complete 5.1 surround facility that serves as the main presentation studio. Studio B (225 square feet) features one of the only Foley rooms, complete with pits, in the Midwest. Studio C mirrors most of the functionality of Studio A and is the home of sound designer and veteran mixer Steve Wick.
GAP Digital has created scores of radio dramas, including programs based on such classic stories as Victor Hugo's "Les Miserables," C. S. Lewis'"Chronicles of Narnia," George Eliot's "Silas Marner" and the drama series titled, "Left Behind." One of GAP Digital's most recent projects was the George MacDonald classic "At the Back of the North Wind," mixed in Dolby Pro Logic II. It is the story of a poor stable boy living in Victorian London in which everyday lives are mysteriously enveloped by a power and a glory, personified here as a beautiful woman known as the North Wind. It was broadcast recently in Europe over BBC-7. It is currently being distributed for broadcast in the United States.
"We are sticklers for getting the sound right," said owner Todd Busteed. "Our goal is to provide clients with a multipurpose, 5.1-capable facility, that supports both radio, drama and audio-for-video projects, in a visually stimulating environment."
Because of that zeal to get the sound right, Busteed undertook a major redesign of GAP's facilities several years ago by Walters-Storyk Design Group (Highland, N.Y.). In the process leading up to the redesign, Busteed talked with a number of leading sound/studio designers, including Gary Hedden of GLH Audio in Franklin, Tenn. "Gary convinced us that the BAG END INFRA bass system best fit our needs," Busteed said.
The 0.1 channel in Studio A's 5.1 surround system is directed into a BAG END INFRAsub-12 Pro. The left and right main system is extended through the use of a pair of BAG END S-10E-I single ten-inch subwoofers controlled by an INFRA signal processor.
Studio A is the primary audio tracking room in the facility, primarily because it is a large space and better suited for performance use. In addition to actor voice-over sessions, music and crowd background sound are recorded here. Studio A can accommodate about 15 performers. In an effort to create flair and personality in the space, designer John Storyk installed a dramatic, curved, built-in couch at that back of the control room.
The control room is also set up to support audio for video production. For viewing ease, a 44-inch plasma screen can be lowered to a position squarely in front of the console. The control room itself is basically symmetrical, allowing an accurate listening environment for the producer and engineer. The back of the room is designed to accommodate guests.
While guests are behind the surround monitors, staff members have been surprised at how guests still get a sense of the surround field. "We have had a good experience with the BAG END system providing accurate bottom end for our productions," Busteed said. BAG END's Director of Engineering and Research, Henry Heine, helped do the final tuning of the room. "His 'tweaks' improved the room's sound even beyond what we were already enjoying," Busteed said.
He is equally happy with the finished product created by Walters-Storyk Design Group. "Of all the rooms we have seen over the years, John Storyk's work has consistently been the most aesthetically appealing. Visually, WSDG really transformed the studios. The process of replacing a drab paint scheme on four walls with a work space filled with striking colors involved lots of angular stretch fabric, ceiling clouds, wall panels, and hardwood floors. Audio drama is our bread and butter, so there is a constant flow of clients and actors coming in and out of our doors. We want the atmosphere here to stimulate the imagination."
Each studio is equipped with a Fairlight MFX3Plus digital audio workstation on a Medialink network and ProTools. Studios A and C each house a Sony DMX-R100 digital console. A centrally located machine room networks virtually all resources in the complex and the entire facility is serviced by a 6 kva uninterrupted power supply.
GAP Digital is located at 205 North Washington Street, Wheaton, Ill. 60187; the telephone number is 630-871-1400. Its web site is: www.gapdigital.com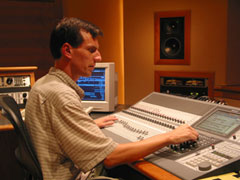 BUSTEED AT THE CONTROLS
GAP Digital Studios owner Todd Busteed, at the controls in Studio A, is a perfectionist when it comes to audio. ""We are sticklers for getting the sound right," he says. One of GAP Digital's most recent projects was the George MacDonald classic "At the Back of the North Wind," mixed in Dolby Pro Logic II. It was aired recently in Europe over BBC-7