Great Lakes Navy Base, IL
The Great Lakes Navel Base recently installed a full Bag End system into their historic chapel.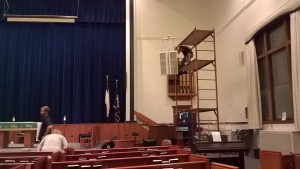 Great care was taken by contractor Spice Audio to perform the installation with minimal impact on the historical building. Four custom white painted Crystals (CRYSTAL2-CUS) were flown, two per side, and double 18″ Infra systems (D18E-I) were located on either side of the platform to reinforce the bass. Bag End provided technical assistance in rigging the Crystals insuring a smooth and safe installation.