Hong Kong Museum of History
Hong Kong Museum Employs Bag End Studio System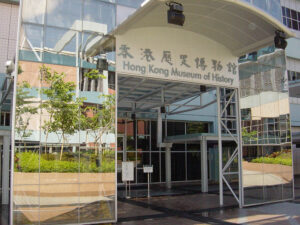 The 80,000 sq. ft. museum presents an overview of Chinese history. This is achieved with panoramic scenes, dioramas and multimedia presentations.
"Multimedia was a design element from the very start," said Chris Sia of CPS Electronics, Vancouver. CPS was retained by the museum's exhibit designers, J.J. Andre & Associates to carry out the multimedia design and specification. Theatres, sound zones and lighting effects are involved in every one of the eight areas of the exhibit.
In the five theatre spaces, the multimedia system needed to have it all. This included, clean, clear, large pictures and accurate sound for clear narration, but still making a significant impact. To maximize this impact, Sia selected two Studio loudspeaker systems from US manufacturer Bag End for the surround sound, along with their TA1200 effects loudspeakers. In all, he spec'd a total of 28 Bag End speaker systems. Each Bag End Studio A system consists of a pair of factory-matched and pre-set MM-8 near-field monitors, two D18E-I double 18″ subwoofer systems and an ELF-1 signal processor, which provides a bass response down to 8Hz.
Both Sia and museum officials were pleased with the result. "The voice narratives were clear, and the music and effects sounds, particularly in the Geology Theatre, where sounds of volcanic rumbles and tectonic shifts were being played, sounded full but still tight," he said.