Hotel Nikko, New Dehli, India
ADDS BAG END SOUND SYSTEM

Historic roots of the capitol city of India, New Delhi, are said to date back to 1450 B.C. On the other end of the spectrum, one of its newest additions is the Metropolitan Hotel Nikko. The 220-room hotel, which opened its doors in September of 2000, is one of only a handful of five-star accommodations in this historic city of eight million. Nestled in the heart of the central business district, it is within five km of Connaught Place, Parliament House, the president's estate, governmental offices and Delhi's main railroad station.
The Metropolitan Hotel Nikko offers a long list of amenities for weary business travelers and tourists alike, among them the social hub of the hotel: Tuskers. Tuskers, a bar lounge offering warm intimacy in which to relax and kick back after a busy day, is situated conveniently just off the hotel lobby.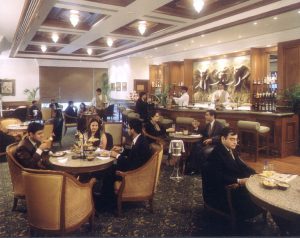 When the hotel management decided the entertainment capabilities of Tuskers needed to be enhanced and expanded, it called on Sound of Music, a New Delhi-based audio/video firm, the Indian distributor for BAG END Loudspeaker Systems of Algonquin, IL
Sound of Music installed a new Fujitsu Plasmavision video display and an all-new full-range BAG END sound system in Tuskers. The new audio system includes four TA6000 Time-AlignedTM mid-range speakers systems, and two single 18, S18E subwoofer systems. Controlled by an INFRA-M integrator, the full-range system gives the sound system the capability of producing a flat acoustic response down to 8 Hz.
"The BAG END speakers ensure that guests can enjoy the entertainment we provide them while still having the opportunity to converse comfortably with each other."
Modern Delhi – or New Delhi, as Westerners call it – was built in 1931 by the British government when it shifted its seat of power from Calcutta. The British elected to create New Delhi just south of the ancient city of Delhi, originally called Shahjahanabad when it was laid out in 1648 A.D. by Emperor Shah Jahan.
In the six decades since the creation of New Delhi as the capital of British India, the metropolitan area has exploded in all directions. As a result, the lines of distinction between Delhi and New Delhi have blurred over the years as the population swelled to its present level of eight million. Indians from all corners of the sub-continent have poured into the city, making it the melting pot of the country. For visitors, the storied city, one of the most historic in the world, serves as a good introduction to the complexities and dynamism of India.
The Metropolitan Hotel Nikko is located at Bangla Sahib, New Delhi 110001 India.