L3, Tactical Operational Flight Trainers
Bag End Supplies High Reliability, Low Frequency Systems
For F/A-18 Tactical Operational Flight Trainers
Long time supplier of F/A-18 flight simulators, L-3 is utilizing Bag End subwoofers for its latest generation of F/A-18 Tactical Operational Flight Trainers (TOFT), now integrated with L-3 Link's SimuSphere® visual system display. L-3 Link simulation solutions today are supporting F/A-18C/D, F/A-18E/F and EA-18G platforms.
The F/A-18 TOFT trains pilots in field, carrier takeoffs and landings, low altitude flight, air-to-air and air-to-ground weapons delivery, electronic countermeasures and emergency procedures.
Bag End's low frequency loudspeaker systems, well known for accuracy and extended frequency response, were chosen for the latest generation TOFT to provide life-like low frequency information to the pilot.
Located behind the pilot, each simulator contains a custom, powered double 10 low frequency system providing a realistic audio experience during training operations.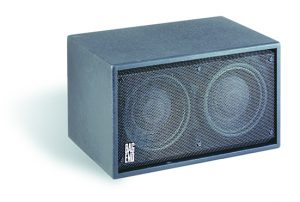 IPD10E-I, Bag End's Double 10" Infra Subwoofer System
The Bag End IPD10E-I is similar to the system utilized in the F/A-18 flight simulator. Bag End manufactures a wide line of passive and self powered low frequency system for diverse applications.