Lancaster Christian School's Gymnatorium
A SPACE WITH A PURPOSE

Lancaster Christian School's need for both a gymnasium and auditorium were met by building a gymnatorium.
Two movable production stations can easily be disconnected and stored out of the way for sports events.
Lancaster Christian school
Making the most out of their space

by Carolyn Heinze
The gymnatorium's audio, video and lighting signals are all routed through CAT 5 cabling, making connection and removal as simple as plugging in five RJ-45 computer-network-style connectors into the floor pocket at the main front-of-house position.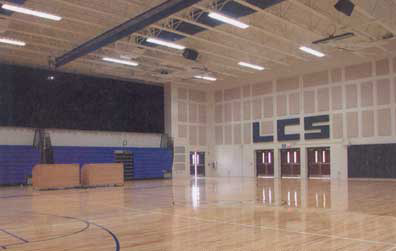 Lancaster Christian School's, facility uses a multi-purpose space that is now home to the organization's music and drama program, as well as various sports activities including basketball and volleyball. The venue is an addition to the existing building, which houses approximately 325 students from kindergarten to grade 12. The Lancaster, Pennsylvania based Cornerstone Design Architects provided architectural services for the new space, and PAVL Systems, Inc. out of Harrisburg, Pennsylvania designed and integrated audiovisual systems that would not only accommodate sporting events, but instrumental music, choral programs and theatrical productions as well.
Kent D. Baldwin, vice president at PAVL Systems, explains that the faculty at Lancaster Christian underlined simplicity and flexibility as primary design goals. "Portability and connectivity of the head-end (where the portable production booths connect to the system) was prioritized by the school." he notes, adding that the A/V systems needed to be accessible from the front-of-house (FOH) position, as well as off-stage and in a secure storage area. "Combined with that, the control consoles and inputs needed to be quickly and easily connected into the system. Of course, ease of use was also a requirement. The school didn't want to set up the production desks for an assembly; they wanted to grab a mic, push a button and know it was going to work."
This presented the team at PAVL systems with a networking challenge. Baldwin elaborates: "Because of the multiple operating locations, we abandoned the traditional approach of splitters and large matrix routers necessary to serve all of the audio and video I/O's," he says.
Instead, PAVL established three discrete digital networks; one features 128 channels of audio, one dedicated to high-resolution video, and one equipped with two universes of DMX lighting control. "By digitizing all signal processing at the head end, this reduced the connectivity down to five CAT5 connections at each operating location," Baldwin explains. "Additionally, the cable and conduit requirements downscaled considerably, reducing the on-site termination time and also the work required by the electrician."
At the system's core is an EtherSound digital audio distribution system, invented by Digigram, using off-the-shelf Ethernet components. EtherSound enables routing and distribution of all of the primary audio paths, including the microphones, the aux and line-level sends, and the audio that runs from the video production desk. This enables users to access the system from a number of different locations with little difficulty. "Not only are there multiple locations available for the production desks, but with a digital audio network you have a virtual 'patchbay' available for signal routing up to the console," Baldwin explains. A stage configuration can be repositioned, microphones can be plugged into different channels and re-assigned back to the original channel inputs on the console, and the console remains the same for whomever is operating it.
The digital audio network at Lancaster Christian also features an Aviom personal monitoring system for the musicians. All of the audio and preset processing is achieved via a BSS Soundweb digital audio processing system. "Ashly CLX-52 compressor/limiters are used on the console main and monitor outputs before they are inserted onto the digital network." Baldwin lists. "Crest CA Series power amplifiers and EAW full-range loudspeakers make up the delivery system." Two dual 18-inch, low-profile Bag End D18 series subwoofers are located under the center of the stage.
Extron TP-series devices provide the ability to transmit video over CAT 5 cable. For front projection. Lancaster Christian is using a Sanyo PLC-XP55 projector, which displays images onto a 200-inch diagonal Da-Lite tensioned Cosmopolitan Electrol screen. Video matrixing is achieved through an Extron ISM182 device: switching and scaling is done through an Extron 7SC system.
The lighting system is comprised of ETC Source Four fixtures, a 48-channel ETC Sensor SR+ dimming system, and control is handled by an ETC Express 48/96 console. An ETCNet system is used to provide lighting control signals over CAT 5 cable as well.
"A motorized main drape, masking borders and an upstage cyclorama curtain is installed on stage and an acoustic curtain was added to the back wall," Baldwin explains. "The curtain package combined with the theatrical dimming and control system added a level of production for drama and musical performances that the school simply didn't have before."
Baldwin notes that the installation of permanent systems help to make gymnasiums less offensive to the ears. "The acoustics [in the old space] were typical of a gym with high noise levels and long reverberation times making even athletic events uncomfortable to most visitors," he points out. "By installing permanent systems, speaker placement could be optimized for uniformity of coverage and intelligibility." Acoustic treatments specified by Environmental Acoustics of Harrisburg, Pennsylvania and manufactured by Kinetics Noise Control were installed throughout the space by PAVL to further improve the behavior of the room.
Rachel Rineer, director of instrumental music at Lancaster Christian, confirms that the new facility has opened up a number of different options for both staff and students. "It has been a huge help." she says "We were using a very small gym for our chapel services. There was a small sound set-up that was not very reliable, and we were very limited. There was no way that we could have had concerts or drama productions in this old facility. This [new] facility has given us a lot more opportunity to be able to offer more events for our students and for the community without having a lot of hassle. It's all right here; this is our own place."
As a result, the school is able to experiment with different approaches to sports, drama, music and worship. "It's broadened our abilities and what we can do," Rineer says. "There is a whole new aspect when you have a facility with lights and several different ways to run sound, and a video projector with PowerPoint right there, all easily accessible. It's just broadened our capabilities incredibly."
Carolyn Heinze (carolyn@carolynheinze.com) is a freelance writer/editor.