Milford Graves
Milford Graves 1941–2021
A talent in many fields, Milton redefined the role of drums in the jazz ensemble.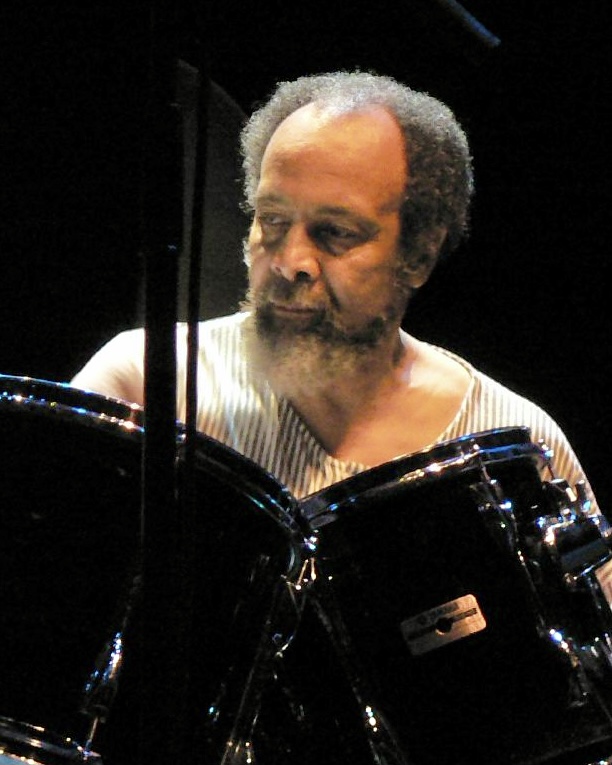 By File:Milford Graves.jpg: Andy Newcombe Farnborough, UKderivative work: Innisfree987 – This file was derived from: Milford Graves.jpg:, CC BY-SA 2.0, https://commons.wikimedia.org/w/index.php?curid=99861150
Milford Graves died of congestive heart failure, related to a 2018 diagnosis of amyloid cardiomyopathy.
Milford, as many of the greats, was multi-talented. He was a percussionist, acupuncturist, boxer, herbalist, inventor, and a martial artist who created his own idiom. He was also a painter, sculptor, scientific researcher and an educator. (A 2018 documentary, Milford Graves Full Mantis, gives a sampling of his remarkable talents.)
On the drums Graves used his hands to play rhythms like those of his timbales, tablas, and African drums. Meanwhile his feet tapped out the dances to those rhythms on the hi-hat and kick drums. The result completely restructured the role of the drums, making them as dynamic and abstract as the other instruments in a free-jazz context.
Graves taught himself the graphic coding language LabVIEW, which is used to visually express seismic waves; he studied heartbeats, regular and irregular, centralizing the concept in what he called "biological music"—a system that won him a Guggenheim fellowship in 2000 and was widely praised by mainstream medical practitioners as well as alternative healers and musicians. In 2017 he patented a process for using cardiac vibrations to repair stem cells. Milford used Bag End IPS18E-R, ISUB2-12 and an Infra MXB's to playback the recordings of heartbeats for medical treatments.
When diagnosed with a heart condition in 2018, Graves turned both his research and his musical practice into a treatment regimen for himself, buying heart monitoring equipment on eBay, playing back recordings of his own pulse, and setting the rhythms to music. Told at diagnosis that he had six months to live, Graves instead survived for nearly three years.