National Museum of the American Indian
Smithsonian's National Museum of the American Indian (NMAI) on the National Mall in Washington, D.C.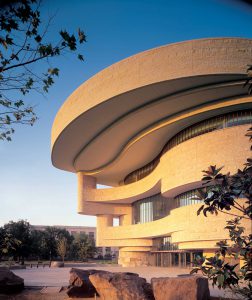 NMAI is dedicated to advancing knowledge and understanding of the Native peoples of the Western Hemisphere. This includes the life, languages, literature, history and art of the American Indian.
The five-story, curvilinear building was built on one of the last open spaces available on the National Mall. Consequently, the museum is situated in a 4.25-acre site with wetlands and 40 boulders known as "grandfather rocks." NMAI is located between the Smithsonian's National Air and Space Museum and the U.S. Capitol.  It is a sharp contrast to neighboring Washington buildings. The textured golden-colored Kasota limestone exterior evokes natural rock formations formed by wind and water through time. Special features include: an entrance facing east toward the morning sun, a window with eight prisms, and a 120-foot-high spaced called the Potomac Atrium—all designed in consultation with many Native Americans.
The Lelawi (leh-LAH-wee) Theater, a 120-seat circular theater located on the fourth level, presents a 13-minute multimedia experience titled "Who We Are". This presentation is to prepare museum-goers for their visit and conveys the significant presence and diversity of Native peoples throughout the Americas.
Collections and Exhibitions
"Our Universes: Traditional Knowledge Shapes Our World"—focuses on Native cosmologies and the spiritual relationship between mankind and the natural world. It explores annual ceremonies including the annual Denver March Powwow, the North American Indigenous Games in Canada and the Day of the Dead in Mexico, as seasonal celebrations that unite different Native peoples.
"Window on the Collections: Many Hands, Many Voices"—offers a view into the vast collections of the museum by showcasing approximately 4,500 objects from the museum's permanent collection.
Throughout the museum, the works of Native artists are on display as "landmark objects" in the public areas, including a 20-foot totem pole by carver Nathan Jackson (Tlingit) and a bronze sculpture by Roxanne Swentzell (Santa Clara Pueblo).
The Audio
Audio equipment throughout the museum includes Mackie DX810 mixer/processors for audio-signal processing, QSC CX-168 multi-channel amplifiers and a variety of loudspeakers from vendors such as Tannoy, EAW and Bag End.
Because of the proximity of the exhibits, possible overlap of sound between exhibits is solved by the use of 35 custom-made Dakota Focused Array loudspeakers placed out of sight above the visitors.
Interactive, audio and video software for the exhibits was produced by a team including Cortina Productions, Interface Media Group, Magian Design Studio and Pyramid Studios.