Private Island Audio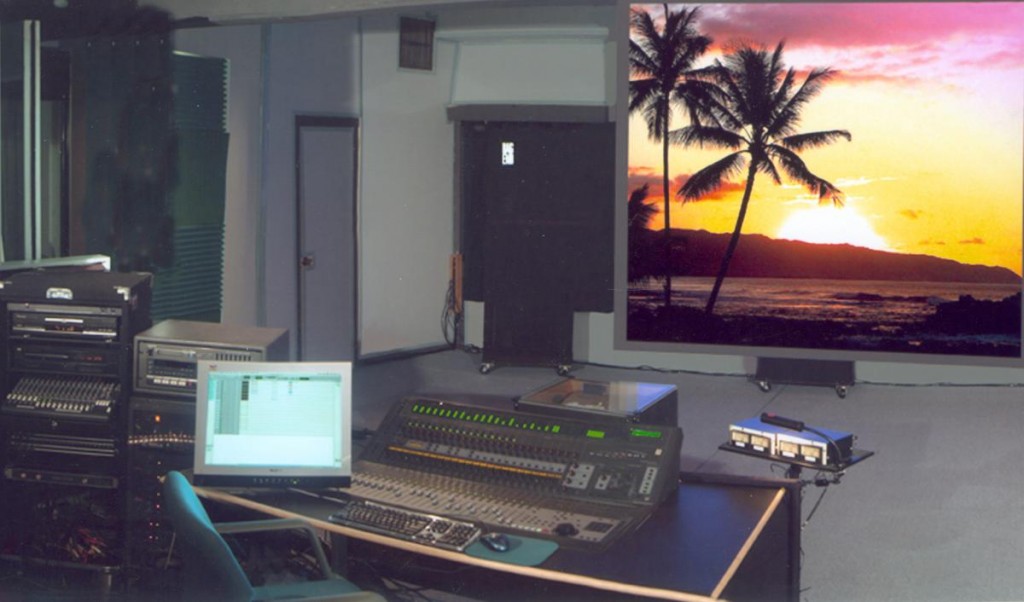 HOLLYWOOD MIXING GIANT INSTALLS BAG END SPEAKERS IN NEW 5.1 MIXING THEATER
As you scan the amazingly long list of credits attached to this man's name, it's hard to imagine he has been anywhere in the last 25 years or so than at the mixing console of his Hollywood recording studio, Private Island Audio.
But for the former UCLA football player, being an expert audio engineer, music producer and film mixer is only part of the story. Michael McDonald has several gold and platinum records on his studio wall. Michael is an accomplished guitarist, he has a degree in art history, and at one point passed the Air Force Academy exams hoping for a shot at the astronaut program.
After hanging up his football spikes ("I was breaking and dislocating various joints of my body. When one of my fingers went I thought, 'I'm not going to be able to play guitar if I keep going like this'," he says.) McDonald channeled all his energy into a musical career. Meanwhile, he began experimenting with his home tape recorder. Coincidentally, Mike became a successful guitar repair specialist. He did repair work for Jackson Browne, Stephan Stills, Ry Cooder, Bruce Springsteen and the Eagles. He used his income from session work as a guitarist, a successful tour and his repair sideline, to purchase bigger and better recording equipment.
Private Island Audio
Then In 1988, McDonald opened Private Island Trax studio, now Private Island Audio, a multi-room facility on Sunset Boulevard in Hollywood. There he engineered Martika's debut album, "Martika" (Columbia), featuring the Billboard No. 1 hit, "Toy Soldiers."
Over the ensuing years, McDonald has engineered for an impressive roster of artists, including Patti LaBelle, Melissa Manchester, Ray Charles, Emmanuel, Wang Chung, Marilyn McCoo, Los Tiranos del Norte, Andy Williams, Billy Preston, The Whispers, Gladys Knight, Martika and hundreds of TV and film projects for Disney, NBC, PBS, HBO, Fox and Dick Clark.
In recent years, McDonald was the requested engineer for albums by such artists as The Monkees (reunion album), guitar rockers The Hellecasters (his third album for them), legendary jazz drummer Alphonse Mouzon (three albums), poet and composer Rod McKuen and blues singer / actor Jim Belushi.
In the last six years, Mike's advanced "ears" have been contracted for mastering (digitizing and re-mixing) more than 400 albums of such entertainment legends as Sophie Tucker, Liberace, Gershwin, Cole Porter, Judy Garland, Louis Armstrong, Billie Holiday, Bing Crosby, Frank Sinatra and Johnny Mercer.
Adding Bag End
McDonald recently added a new 1,200 square-foot 5.1 surround film mixing theater to his studio. For the sound system, he chose three BAG END TA5000 Time-Aligned™ speaker systems for the high and mid-range left-center-right channels and two BAG END S18E 18-inch subwoofer systems, capable of reproducing a flat response down to 8 Hz. for the bass system.
He was immediately impressed with what he heard. "The BAG END speakers work incredibly well for film mixes," he said. "They have perfect imaging and surprisingly great detail for sound, from a whisper to an explosion. I am particularly impressed with the BAG END subwoofers. They are extremely efficient and very solidly constructed."
The TA5000, the only 15-inch Time-Aligned™ speaker system on the market, provides highly efficient clarity and smooth mid-range response without the bulk of an 18-inch enclosure. The S18E subwoofer system reproduces low distortion, high-definition, extended low-frequency bass response in a relatively compact enclosure.
In recent months, McDonald has mixed six feature length films using the BAG END speakers. The result: "My clients are all very pleased. The speakers project well and translate perfectly in theatrical mix settings." Those films were screened at the Cinerama Dome in Hollywood, Sony Pictures' mix stage, Warner Brothers' mix stage and the Harmony Gold mix stage. "In every room, the translation is accurate and strong," he said.
For more information, see the studio's web site at: www.privateilslandtrax.com.