Soundfirm
Bag End, Ends Soundfirms Subwoofer Search
Australia's larges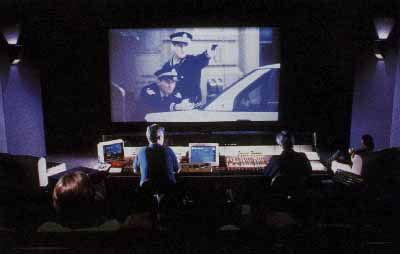 t post-production house, Soundfirm, enhanced its monitoring and mixing with the installations of a subwoofer system from the US-based company, Bag End Loudspeaker Systems.
The Melbourne-based facility, whose credits include Babe, Romeo and Juliet, Rumble In The Bronx and Shine, has installed the system in its primary dubbing studio, Theatre 1, in conjunction with Graham Thirkell of sound design company Acoustisearch.
According to Soundfirm owner Roger Savage, "Bass is becoming a more and more important part of the audio spectrum. And with the advent of digital format releases, the criteria for monitoring has become more critical than ever."
Acoustisearch's Thirkell says the Bag End ELF subwoofer achieved the high SPL's effortlessly and provided the realism and dynamics Soundfirm was looking for.
"Added to that," he said, "the ELF system blended seamlessly with the main system. It was a true pleasure to work with."
"Probably the most difficult part of the decision for Soundfirm was to take a chance on a subwoofer system that was otherwise unknown in this country. But, happily, Soundfirm has always stood ready to accept new technology if they can perceive and improvement in performance, and by doing so, they have gained an edge."
The Theatre 1 dubbing studio is approximately 11 meters wide by 16.5 meters long by 4.8 meters high and contains six Bag End S18E-I drivers, powered by a Bag End ELF-1 and controlled by a Harrison Series Twelve mixing console to provide full surround capabilities. The subs are located in the base of what Soundfirm calls its "Infinity Wall". When the system was brought up for its first series of tests following installation, Soundfirm engineers discovered that, because of the extended low frequency performance of the Bag End ELF system they had to increase the design parameters and bracing of the wall to withstand the amount of low-end power that was being generated.