Steven Stewart
Wow!  The IPS12E-N is way better than I even expected.
Thanks Jim and Heather!
"The sub adds so much!" Says Bassist Steven Stewart. " It's not Boomy or in your face, like a lot of other subs I've heard or played through.  It isn't even obvious that it's coming from the speaker until you turn it off and realize how much it's adding – it really blends with my system so well.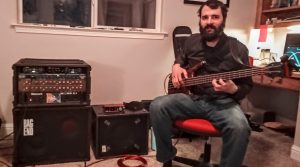 It handles the low notes perfectly!  And adds so much on the higher notes, which is most people's lower notes for my tuning.  It does it in a way that's so natural and real – very accurate, clear, and distinct reproduction of what I'm doing.
I thought it would be cool to do a picture of me holding the sub out in front of me. My friend and I jammed with it last night and he picked it up, said he couldn't believe how light it is. He expected it to be a back breaker.
Love the Purple Tint!  I didn't expect that (now that I look on the site, I can see that it is purple – very cool!).  It accents my D10BX-D very well in color as well as dynamics, tone, and full range of bass reproduction.
It's been more than I expected and everything I was hoped for."