The Jewell
New Omaha Jazz Club 'The Jewell', Installs Bag End
A complete Bag End sound system is helping bring Jazz back to life in Omaha, Nebraska via "The Jewell"
The Jewell
 is a posh night club which opened its doors in February, 2019. Brian McKenna is the New York record executive who moved to Omaha to create
 The Jewell
. McKenna wanted to build a club that would honor the history of the Omaha music scene 
and
 connect to the here and now.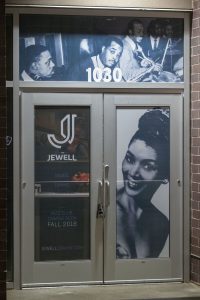 Located at 1030 Capitol Ave, The Capitol District, Omaha, NE. The entrance of the Jewell showcases photos from Omaha and jazz history. PHOTO: CHRIS MACHIAN THE WORLD HERALD
The Jewell pays homage to local music impresario, Jimmy Jewell Jr., and the Jewell building his father built at 2221 N 24th St. The Jewell building was home to the Dreamland Ballroom and is just a few blocks from the new club. The best of the best played at Dreamland including Count Basie, Dizzy Gillespie, Nat King Cole, Duke Ellington and Louis Armstrong. The Dreamland closed in 1965. (Because of those it hosted over the years, the building itself was designated as a city landmark and listed among the National Register of Historic Places.)
The Bag End sound system was specified by Diversified Design Group's principal consultant, David Walters. The system consists of two Neptune CDS-115CUS high output loudspeakers, three TA80-CUS full range speakers, four D12E-DA low profile subwoofers, one Infra MXB system processor and five TA1202-RF Floor Monitors.

"I've had a wonderful experience with the PA, monitors included.
I have plenty of headroom for most of the bands I mix;
the cabinets sound great with little corrective tuning.
I've also been really impressed with the subs –
it's really remarkable the impact and definition they produce, given their size."
(FOH Engineer, Charlie Ames)