Todd-AO Studios
Todd-AO Studios added Bag End Equipment to their system many times over the years.
TODD-AO WEST DOES "EVITA" POST WORK ON ITS NEW BAG END SUBWOOFER SYSTEMS
Todd-AO Studios West broke in its newly installed BAG END Loudspeaker subwoofer system by doing the post work for the new Madonna film 'Evita' at its Lantana facility in Santa Monica, Calif.
Full-blown, feature-length musicals are few and far between these days. That fact, combined with the controversial casting of Madonna to portray Evita Peron, the charismatic wife of late Argentine dictator Juan Peron. Moreover, the complex nature of Lloyd Webber's musicals, with rapid tempo changes and songs running into one another, served to add both a suspense to and anticipation of the finished production.
For Lloyd Webber fans, critics and the general public and sound track would be expected to meet high standards. And for Todd-AO West engineer Tom Lalley the new BAG END subs met the challenge.
"We acquired the BAG END systems for one simple reason," Lalley said. "We needed a higher quality low end, and now we can produce it more efficiently because we are not asking our system to do something it can not do.
"We went from a bi-amped system to a tri-amped system and, with the BAG END subwoofers, we have extended our left-center-right bass response down to 8 Hz," he added.
In all, Todd-AO West added the BAG END systems to three stages at its Lantana facility. In two large dubbing stages a pair of BAG END 18E-I 18-inch subwoofers and a BAG END ELF-1 controller were added to each of its left-center-right channels for a total of six subs per stage. In a third, smaller stage, one BAG END 18E-I subwoofer and BAG END ELF-1 was added per channel.
"We are pleased that Todd-AO West chose BAG END equipment to upgrade its facilities," Jim Wischmeyer, president of BAG END, said. "It's one more reinforcement of our promise that our products do what we say they will do."
____________________________________________________
TODD-AO WEST ADDS MORE BAG END SUBS TO ACCOMMODATE SDDS 8-CHANNEL SURROUND SOUND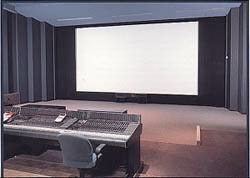 Todd-AO Studios West (formerly Skywalker Sound South) has added additional BAG END Loudspeaker subwoofer systems to its Santa Monica, California facilities.
The additional BAG END subs were added specifically to accommodate Sony's eight-channel SDDS system – an acronym for "Sony Dynamic Digital Sound," according to Todd-AO West engineer Tom Lalley.
"The SDDS eight-channel system is a theatrical system, used primarily in larger movie houses," Lalley said. "In addition to the standard 5.1 channel Left-center-right sub configuration across the front of the screen, the SDDS system extends the bass by including what we call 'left extra' and 'right extra' subs for a total of five channels across the screen."
Todd-AO West has installed four additional BAG END D18E double-18 inched ELF subwoofers in Stage 1 at its Lantana facility in Santa Monica, to complement the BAG END subwoofer systems already installed.
Todd-AO West has BAG END subwoofer systems in stages at both its Lantana facility and its Bundy facility in West Los Angeles.
"We opted for BAG END systems originally for one simple reason," Lalley said. "We needed a higher quality low end, and now we can deliver it."
"Both locations have full-service sound transfer departments and the stages at both can transmit and receive audio through digital tie lines from any stage to any compatible location anywhere in the world," Lalley said.
________________________________________________________
In Todd We Trust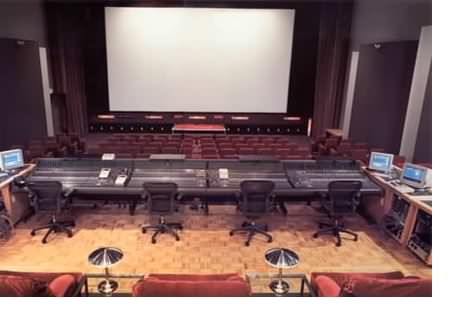 Nearly 50 years since it was founded, Todd-AO continues to push the envelope of multichannel sound.
Todd-AO has played a significant part in multichannel motion picture sound. Founded in Los Angeles in 1952, the company has been responsible for a number of technological milestones, most notably the 1955 release of Oklahoma! in the 70mm widescreen film format that introduced six channel stereo sound.
The new technology was honored with an Oscar for best sound for Oklahoma! in 1955 and a Scientific Achievement Award from the Academy in 1957. The kudos have continued, with Todd-AO employees accumulating ten more Best Sound Oscars, including wins for West Side Story, Cabaret, The Exorcist, E.T., and Apollo 13, plus Technical Achievement Oscars and numerous Emmy Awards.
In 1986, Todd-AO expanded into television post-production audio with the acquisition of Glen Glenn Sound, which had itself been garnering many awards. Another technology pioneer, the company had developed Automated Dialog Replacement (ADR) in 1964. Todd-AO has continued to diversify into a wide variety of audio, video, and new media services, establishing locations throughout the Los Angeles area, New York, Atlanta, and Europe. In 1999, Todd-AO was itself acquired by cable giant Liberty Media Corporation, principally to help service its post-production needs.
The cornerstone of Todd-AO Studios' motion picture sound services in Hollywood is Studio 1, located in the old Glen Glenn building. The stage is dominated by an AMS Neve Logic DFC fully automated, all-digital mixing console, configured for a three-man operation. Half of the console is dedicated to sound effects because of the increasing number of tracks at the predub and final mix stages, with dialog and music sharing the remainder.
Studio 1 employs a Bag End monitor system with TA1200's and ELF subwoofers positioned behind the screen. Four TA1200's carry the stereo surrounds with a fifth mounted on the rear wall to accommodate Dolby Surround EX mixes.
Modest outboard racks house Eventide, Drawmer, Focusrite, UREI, and Lexicon signal processors, but the console's DSP generally provides sufficient horsepower. "The console's EQ and compressors are great," enthuses effects mixer Ron Bartlett. "You can EQ more, and more accurately. You can get each track really smooth and hone every detail."
Bartlett is most enthusiastic about the level of automation available in the DFC. "Everything is automated: EQ, auxes, bussing, faders. It takes mundane mixing tasks out of the way. The predubs for this project were done on a console that, compared to this, has no automation at all – just fader automation. It's amazing to think they used to be state-of-the-art! Previously, it just wasn't possible to correct problems unless you built a load of x-tracks, because you didn't have this level of automation."
Todd-AO has long attracted maverick directors such as Sydney Pollack and Stephen Speilberg who are eager to work outside the giant movie lots. But Todd-AO's independent status has a downside. Chris Jenkins, company president and a busy mixer, notes that "the problem is one of formats and of sample rates. As an independent we have to be able to handle any medium." Indicating the four workstations flanking the console, Jenkins adds, "We have Pro Tools here today." The 16-track systems are providing music, effects, ADR, and production dialog playback for the final mix of Paramount Pictures' Wonder Boys. "We're also using MMR's and we have Fairlights and Wave-frames in-house."
Upstairs, Machine Room 1 features the expected wall of mag machines, but, as the mixing process moves rapidly towards an entirely digital paradigm, recordist Mark Marramore continues Jenkins's theme. "These days my job entails hard-disk management. On Wonder Boys, we're using Tascam MMR-8's and MMP-16's for recording and playback. We use 9 GB drives—one will hold an AB reel—with additional 9 GB bays so that we can run 16tracks on some machines. Music tracks are backed up to TASCAM DA-98's.
"We used Akai workstations on Tarzan, and ended up with five 8-track stems, which made it easy to do the foreign language versions. We still generally print master to mag, though it depends on the production company. Some clients want stems on mags. On Tarzan, we backed up the stems to MO for Disney—despite some people's concerns about playback ten years down the line.
"The Soundmaster I.O.N. ATOM motion controller is synchronizing 12 transports. Most of the signals are TDIF into the AMS Neve MADI interface, which handles up to 56 digital inputs, so there's very little patching."
The final word goes to Jenkins, commenting on the lack of standardization. "The music guy might bring in a Pro Tools session at 48kHz and CDs at 44.1kHz to a mix. So they'll decide to run it all analog, but the converters aren't always great, and it can sound worse than ever. I'm just looking forward to three years from now when things have settled down!"