Criswell Conference Center, Dallas, TX
Criswell conference center with classrooms, theatrical space and historic chapel in the heart of Dallas.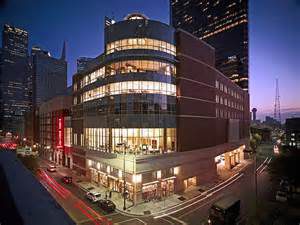 The Criswell Conference Center is a multi-functional facility situated as the central hub for the 10-building urban campus of First Baptist Church of Dallas. The seven-story, 210,000sf facility features two below grade parking levels, an atrium overlooking downtown, prayer tower, fountain mall, chapel and a dinner theatre and conference space called Center Stage. Center Stage is designed to host concerts, choral performances, small dramas, conferences, and seminars. The high-powered sound system is concert quality designed for touring acts and in-house productions.
First Baptist Church, Dallas,  is one of the largest downtown property owners spanning six city blocks. The buildings were built for different needs over time and the church brought in Idibri to evaluate the campus as a whole and to create facilities that were transparent, open and welcoming.
Idibri: technology designers, theater consultants and acousticians who craft forward-thinking spaces.