Haugh Performing Arts Center, Glendora, CA
Bag End D10-IF6 Subwoofers, Infra MXB used for Fixed House Speakers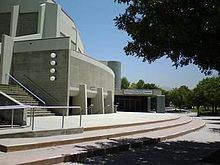 The Haugh Performing Arts Center is a 1,400 seat proscenium venue located on the campus of Citrus Community College, in the heart of Southern California's San Gabriel Valley. Each year the facility is host to about 200 performances, including campus rehearsals, productions, and recitals, professional artist series, a Saturday Series for Kids, and numerous rental events.
Immediately adjacent to the center is a state-of-the-art recording complex, which includes two studios with full analog and digital recording and editing facilities. The complex is fully wired to allow HPAC's mainstage to serve as a studio scoring facility, and to provide high quality studio recording services for performances in the Center.
Twenty Bag End D10-IF6 Subwoofers were evenly distributed across the house under first beam position. A Bag End Infra MXB subwoofer processor was used for FOH Signal Processing.